I am Madame Lule, Dominatrix based in Paris at Paris, Mistress-Woman experienced, cerebral, tenderly sadistic or sadistically tender,
artist, author and creator of site BDSM La Ferule, laferule.com,
architect and choreographer of your fantasies,
straightener of twisted souls, keeper of keys and secrets,
listener and whisperer of what noise there, In you, at the very bottom.
Rather "bourgeoise" than fetish, I prefer blouses, straight skirts and beautiful vinyl and latex lingerie.
Next to many classic accessories (floggers, handcuffs, gags, hood, casters…), I have more specialized ones (fucking machine, milker, straightjacket…) and others that I divert from their use. Maybe I'll surprise you !
Home…
I want you vulnerable, tremblant, slobbery, upset, strong because weak,
pushed into your entrenchments, live and naked.
I want you in what you never dared to tell anyone, in your clumsiness, your doubts, your anxieties, your hopes.
In a nutshell, I want you true.
I love the iron gloves on my velvet hands,
time suspended during an intense session,
the music that wins, the affinities (s)elective and lasting alchemy,
the trips we come back from transformed and the memories into trophies.
I like to mix torture and delights,"supplidélices" or "deliplices", sow order and bring chaos.
I like to do wrong and I do it right.
More about me in this interview granted to BDSaimees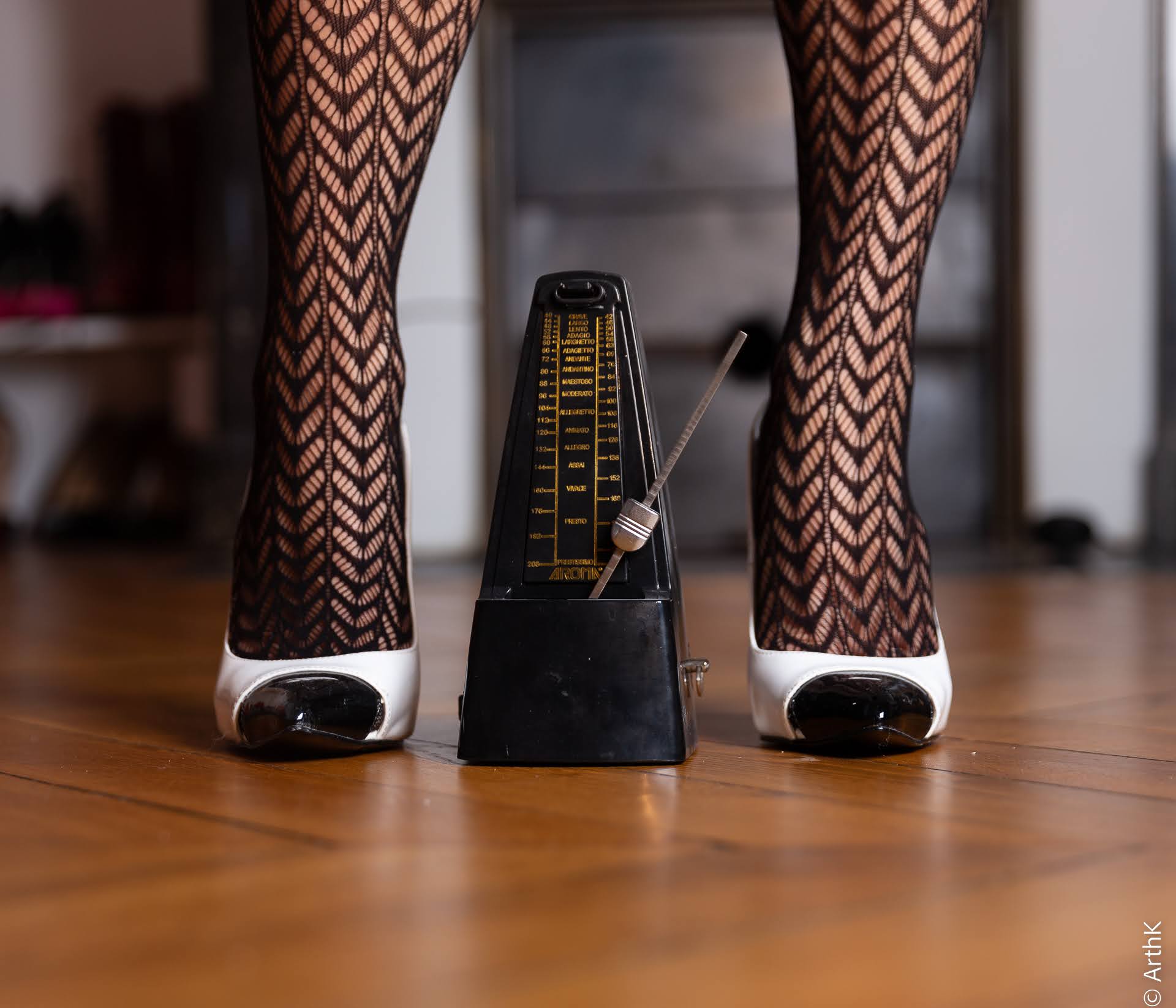 here, over there or elsewhere, my universes are declined according to my good pleasure.

here, boudoir where i receive you. Baptized 'L'Alambic', all in old parquet, red moldings and curtains, nestled in a beautiful apartment in eastern Paris, it is very easy to access.
The low, my website La Ferule, updated every day : laferule.com
Submitted, artist or curious, you can read my texts, listen to audios of my sessions, discover my photos, play by accomplishing tasks concocted by me… and more.
Elsewhere, this planet that I roam after having lived abroad for a long time. I travel(back) as much for pleasure as for work and often participates in events and festivals related to the BDSM, the shibari (strings), creative sexualities and dance.

English speakers welcome. As I've been living and working abroad, I can write and speak English fluently.
So… Let's play !
Visit my site La Ferule !
La Férule is a piece of art, a Virtual Work of Intimate Creations, Immersive, Intelligent, Incongruous, Unmentionable. In a word, Indispensable !
Like the plant whose name it bears, La Férule has an underground part. Rooted in my imagination, this opens up to you the sensory interlacings of my little inner worlds : tasks concocted by me for the submissives (The Calendar), session audios, photos, texts, testimonials and sometimes, videos.
The section reserved for members of La Férule is updated every day !
The little bookstore of Madame Lule
Erotic or humorous texts, thoughts, rituals, fantasies, stories… Discover some of my texts on this page. You liked them ?
Get my book The Emanuscule !
The Emanuscule, 13 chapters, anecdotes, pictures, tasks to do for submitters.


To order it, use the contact form or buy it on Amazon.